"A blast, probably the most unique street sports car out there." -- Dan Davis, Victory Lane

"A unique and tremendously fun car... intense and thrilling--at any speed." -- Tim Considine, European Car

"An amazingly agile car with steering as quick as a go-kart's... The handling is surprisingly neutral and balanced." -- Don Schroeder, Car and Driver

"A sports car in the purest sense... steering is instantaneous and acceleration is eye-opening." -- D. Randy Riggs, Sports Car International

"Like riding a four-wheel motorcycle" -- Patrick Paternie, San Diego Union-Tribune
More Quotes!
Xanthos Cars North America, Inc.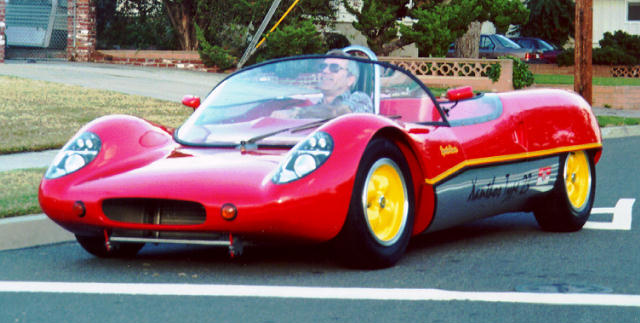 The Xanthos 23 Sports Racer is a 1100lb, 23-based, street-prepared sports car capable of 0-60 in under 5 seconds. Available exclusively in North America, the Xanthos 23 Sports Racer features revised bodywork and a tall safety glass windscreen. Original-style 23B replicas are also offered as are Lotus 22 and 23 replacement chassis and parts. For more information please check out the links at the left or contact Bob Simmons at (858) 277-4681.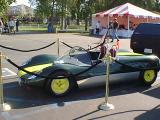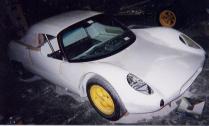 Honda VTEC-powered Xanthos 23s are now available, including the new sliding-top GT version and the outrageous 238 horsepower supercharged Xanthos 23 Extreme. Featuring a supercharged B18C1 engine from an Acura Integra GS-R, the Xanthos Extreme premiered August 2000 at the British Car Corral of Concorso Italiano at Quail Lodge Resort in Carmel Valley, California and at the 27th Annual Monterey Historic Races in the Lotus Corral at Laguna Seca Raceway. The Xanthos 23 Extreme sneak previewed April 2000 at the Association of Handcrafted Automobiles's Knott's Berry Farm Fun in the Sun show.

All Xanthos 23 models can now be fitted with 1.3 liter 175 BHP Suzuki Hyabusa engines and six-speed sequential gearboxes.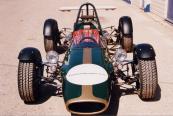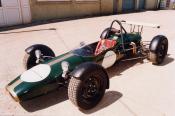 We would like to introduce the Xanthos Grand Prix to interested buyers. The Xanthos Grand Prix is a reconstruction of the Lotus 22 formula car using a Honda Fireblade motorcycle engine and six-speed sequential gearbox. This single seat race car is made streetable with the addition of equipment such as cycle fenders, headlights, brake lights and turn signals.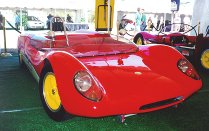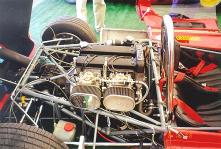 Xanthos Cars North America's original demonstrator, the race bodied 23 shown at Laguna Seca and featuring a Lotus Twin Cam and 4 speed, is offered for sale at $45,000. If interested, please contact Bob at the e-mail address below.
The Xanthos 23 Sports Racer is getting rave reviews! Patrick Paternie grooves with the Xanthos 23 in the San Diego Union-Tribune's August 14, 1999 "Wheels" feature. Tim Considine's review in the December 1998 European Car beautifully describes the joy of driving one of the world's greatest sports racing cars on the street. Get the full article and share his thrills! Don Schroeder also sings Xanthos 23 praises in the December 1998 Car and Driver. They join enthusiastically positive reviews from Autoweek, Sports Car International, British Marque, Victory Lane, British Car Magazine and others.
In 1998, the Xanthos 23 Lotus replicas made appearances at the
25th Annual Monterey Historic Automobile Races at Laguna Seca,
Chrysler Motor Trend Thunder Historic Road Races in Tustin, California,
Ford Los Angeles Street Race, and
Chrysler Classic Speed Festival in San Diego. Similar events were covered in 1999.
See the Xanthos pictures from Laguna Seca!
Xanthos Cars North America, Inc.
P.O. Box 87443
San Diego, California 92138-7443
Phone: (858) 277-4681
Fax: (858) 277-7404
E-mail: robbiesimmons at mac.com (Please replace " at " with "@".)
---
Sponsors of Lotus, Limited

America's largest Lotus Car Club.
All rights reserved. Copyright © 1998-1999 Xanthos Cars North America, Inc.